Laser Series GCS – LA CNC Laser Cutting Solution up to 4kW
Part of Geka's series of laser cutting and plasma cutting solutions, the CNC laser cutting solution with laser power of up to 4 kW will assist you in your manufacturing needs for processing metal structures. The fiber laser cutting service provided by the Laser GCS – LA allows for the processing of steel profiles and sheets, potential uses including telecommunication towers, towers for power stations and a wide range of other industrial metalworking applications.
Geka's commitment to using the latest CNC technology and our decades of experience in designing and innovating in metalworking results in the advanced high-precision technology used in the GCS – LA, guaranteeing high-quality results. The servo drive system included in the machine helps provide the reliability and time-efficiency that has been part of Geka Group's track record for over 90 years.
The GCS – LA CNC fiber laser cutting solution for sheet metal processing allows for the cutting of multiple materials in a variety of different dimensions and thicknesses. Geka also guarantees that the machine utilizes materials efficiently, saving energy and with a low dust emission.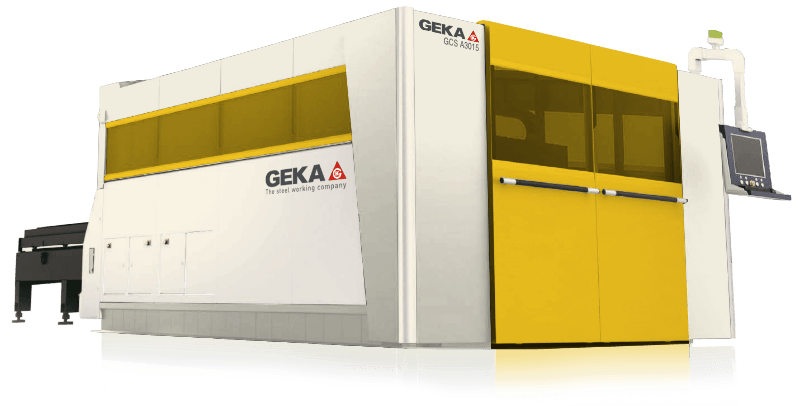 Standard features of the GCS – LA fiber laser cutting solution
• Panasonic servo drive system of motors and drivers with high-speed rotation, offering precision, time-efficiency and reliability.
• An accurate and practical cutting head with a superior drilling effect for shorter times when cutting thick metal. The cutting head can also work with automatic focus.
• An electrical cabinet integrated into the machine for extra security.
• Reduction gear and bevel gears with an automated lubrication system, increasing the service life
of the machine and offering stability and a dynamic performance.
• CNC control system (nesting optional)
Additional options are also available to configure the CNC laser cutting solution to your metalworking tasks. The machine is available in dimensions ranging from 3000 mm x 15000 mm to 6000 mm x 2500 mm and offering powers between 1 kW and 4 kW. A tube laser cutting rotator may also be acquired for the CNC laser cutting machine as well as different options for the cutting head. More options are also available.
Do you have questions about GEKA CNC Cutting Solutions?
Our advisors will be happy to help you and provide you any information you need.