PAX CNC Feeder for Punching Station
Geka's Pax CNC Feeder is an accessory for the punching stations in the machines belonging to the Hydracrop Series of two-cylinder hydraulic ironworkers and the Puma Series of punching machines. It automates the task of punching lines of holes.
With the CNC feeder mounted on the punching station, metal is pulled along by a clamp which helps push it into the correct position that has been established beforehand. The CNC feeder's carriage controls the movements, and the metal is then punched by the ironworker.
The Pax CNC Feeder guarantees the automated positioning of material along the X-Axis of the punching station, permitting sequential multiple punching of profiles. This will help increase the productivity and accuracy of your Geka ironworker.
Geka also has other CNC feeders and positioners available for our ironworkers, which you can choose from depending on your ironworker and manufacturing needs: the Semi-Paxy CNC Automatic Positioner, for the punching stations of models in the Hydracrop Series and Puma Series (with a minimum throat depth of 20″), and the ALRS CNC Feeder, for the shearing stations of the machines in the Hydracrop Series.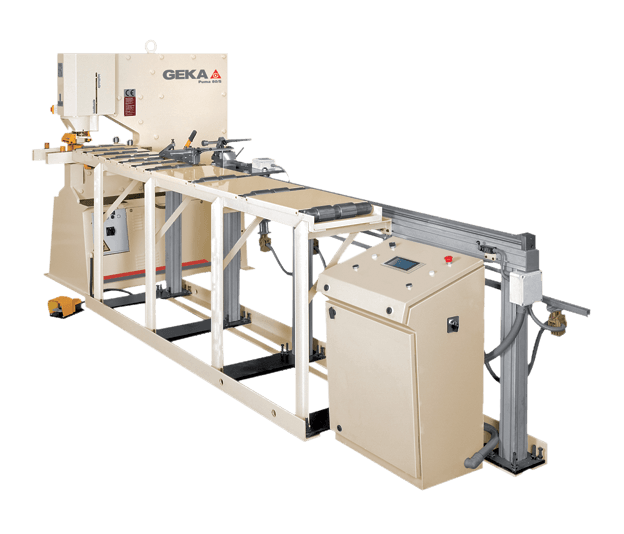 Features and specifications of the Pax CNC Feeder for Punching Stations
Basic features of the Pax CNC Feeder:
Conveyor unit and positioning clamping guides
Clamping of material
Servo motor positioning
Linear roller table top
Manually-adjustable set of
| FEATURES | PAX CNC Feeder |
| --- | --- |
| Available strokes | 118"* |
| Max. feed speed | 78.740 ft/min |
| Max. feed weight | 551 lb |
| Repeatability | ± .002"/ft |
* Additional in feed per 39" available.
Capacities based on a material resistance of 65,000 tensile.
The manufacturer reserves the right to make modifications without prior notice.
PAX, CNC Feeder for punching video:
Services for your PAX CNC Feeder for Punching Station
Choose below the service you want to contact with.

Sales Consultant
Ask our experienced sales consultants to provide you extensive information and advice.

Brochure Request
You can ask for any brochure or information about any of our products.

Technical Support
After sales assistance by GEKA's qualified engineers.

Manuals Request
You can request here any manual for your machine or GEKA original tools.
GEKA Group
We've been forging stories and satisfying tens of thousands of customers for over 100 years.