Semi-Paxy CNC Automatic Positioner
The Semi-Paxy CNC automatic positioner may be mounted onto new or existing Geka ironworkers with a minimum throat size of 20″. It is available as part of an optional package for the two-cylinder hydraulic ironworkers in Geka's Hydracrop Series or for the punching machines in the Puma Series.
This CNC positioner is equipped with programmable stops along the X- and Y-Axis.
Versions of the Semi-Paxy CNC Automatic Positioner:
X 1000: Accommodates material with a maximum length of 40″
X Plus: Accommodates extension devices for longer material: 78 3/4″, 118 1/8″, 157 1/2″, 196 7/8″, and 236 1/4″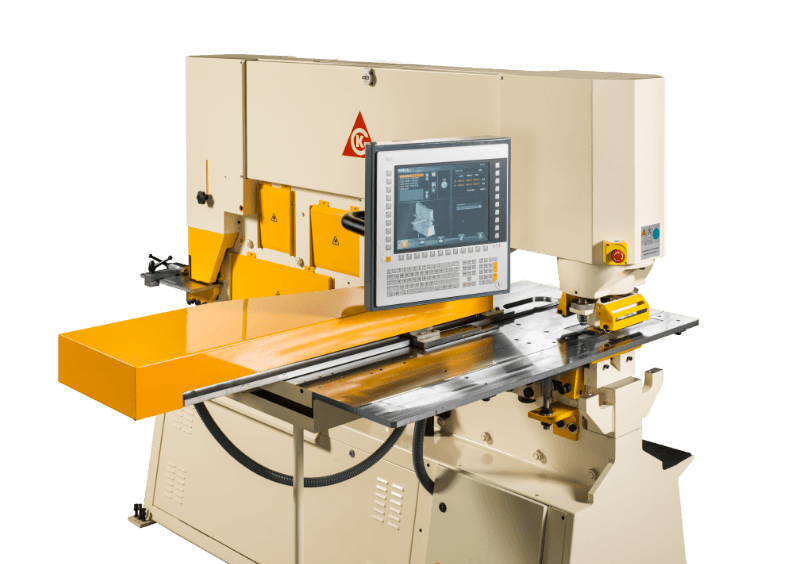 Features and specifications for the Semi-Paxy CNC Automatic Positioner
Basic features:
Support chassis
Two servo motor-driven positioning carriages
Touch screen
Conveyor assembly consisting of independent servo drives along each axis, spindle and encoder units
Maximum Widths according to Model:
HYDRACROP or PUMA (20″ throat) = 15 3/4″ Y Gauging.
HYDRACROP Models 110SD and 165 SD = 20″Y Gauging.
PUMA (30″ throat) = 25 5/8″ Y Gauging.
Semipaxy CNC positioner with extended table video:
Features
Semi-Paxy
CNC AUTOMATIC POSITIONER
Rate of Motion (X-Axis)
0-470″/min
Rate of Motion (Y-Axis)
0-470″/min
Repeatability
+/- .003″
Capacities based on a material resistance of 65,000 tensile.
The manufacturer reserves the right to make modifications without prior notice.
Standard operation steps:
Program the coordinates of each position (absolute or by increments).
Run the application (sets the automated stops for the first position).
Place material securely against the stops and press the punching pedal.
Once the cycle is complete, the automated stops reposition themselves for the next programmed location.
Repeat the sequence until the end of the program.
Main Features of Semi-Paxy CNC Automatic Positioner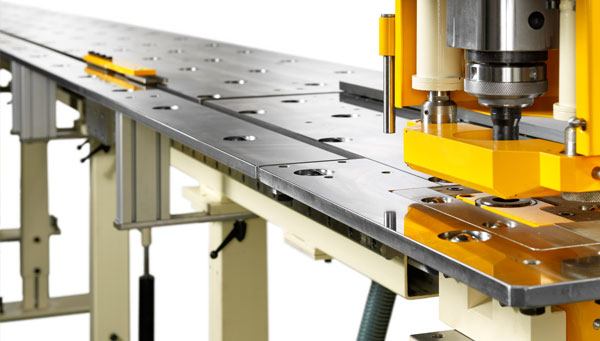 MOTION-ENHANCING FEATURES
Integrated trackballs along the table top permit convenient positioning of material.
Spring-loaded trackballs equipment.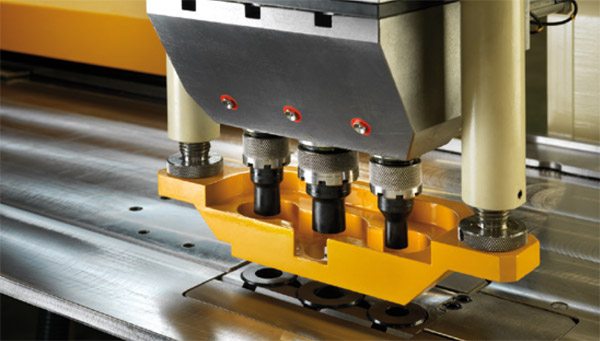 TRIPLE-PUNCHING HEAD
Three on-demand, programmable punches.
Diameters up to 1 9/16″.
Punching is accomplished by means of forcible strokes or blows.
Excellent for operations requiring identical perforations with varying diameters.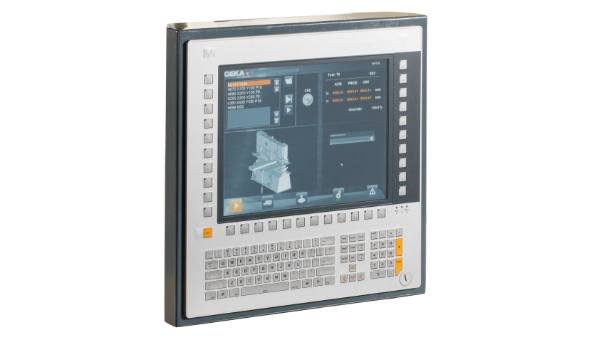 PC-CONTROL
Standard, color touch screen monitor and keyboard.
User-friendly graphic interfaces and programming.
Importing of .dxf and .dstv format files.
Options: 5″ and 7″ screens.
Services for your Semipaxy CNC Positioner for Punching Station
Choose below the service you want to contact with.

Sales Consultant
Ask our experienced sales consultants to provide you extensive information and advice.

Brochure Request
You can ask for any brochure or information about any of our products.

Technical Support
After sales assistance by GEKA's qualified engineers.

Manuals Request
You can request here any manual for your machine or GEKA original tools.
GEKA Group
We've been forging stories and satisfying tens of thousands of customers for over 100 years.