Punches and Dies for Punching Station
Geka US will provide you with the high-quality and reliable consumables that you need for our hydraulic ironworkers and CNC lines. Contact us with your Geka hydraulic ironworker or CNC line model along with your punches and dies needs to order punches and dies for your punching station. Our punches and dies are available in different shapes and dimensions suitable for various materials and thicknesses.
Ordering high-quality consumables from Geka will guarantee an optimum durability and performance from your Geka metalworking machines. Get any kind of punches and dies for a station for any of our machines, including the Hydracrop, Bendicrop and Puma series of hydraulic ironworkers as well as our CNC punching solutions.
What are punches and dies used for?

Punches and dies are used in many manufacturing processes and are essential in metalworking and sheet metal processing. They are an integral part of ironworking and using high-quality consumables goes a long way towards extending the working life of your machines and the efficiency of their work. An ironworker or CNC line will use punches and dies in the punching station to cut material in a desired shape, which is why custom-made punches and dies are often needed.
If your manufacturing process requires so, you may also order custom-size punches and dies for Geka machines by visiting this page. Geka can help you with punches and dies for your station with tailor-mades shapes and sizes to suit your manufacturing requirements.
For replacement shearing blades for your station, click here.
Geka Group has been an industry leader in steel working machines since 1919, innovating in hydraulic machines and CNC solutions. Our experience and technology guarantee that our machines and replacement parts are high-quality, reliable and durable.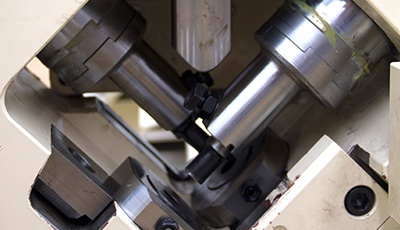 How to change Punches and Dies in our Oversize Punching Unit
How to change Section Blades in our Bendicrop Series
How to change Bendicrop Series Press Brake Tools.