Hydraulic Ironworker Machines
GEKA hydraulic ironworker machines for punching and shearing
The lines of Geka hydraulic ironworker machines are known for their precision, durability and versatility. They may be used in your manufacturing operations for the punching and shearing of profiles, angles, and flat bars. Our range of different lines and products, varying in punching power and size, means that there's a Geka hydraulic ironworker machine for many different metalworking tasks.
Additionally, Geka ironworker parts for our machines are also available. With our technical support service, these parts may also be customized and tailor-made to fit your particular manufacturing requirements.

Two-cylinder hydraulic ironworker machines
The Geka Hydracrop Series of two-cylinder hydraulic ironworker machines may be used by two operators simultaneously. These machines have five tonnage levels and five workstations for punching, notching, shearing flat bars, cutting angles and shearing both round and square bars. The Hydracrop Series consists of five different models varying in capabilities, size and punching power.

Ironworkers with integrated bending stations
The models in the Geka Bendicrop Series of hydraulic bending machines come with an integrated bending station. These machines allow for up to two workers to work simultaneously with it. In addition to the integrated bending station, they feature five other stations for punching, notching, shearing flat bars, cutting angles and a shearing station for round and square bars. Three different models make up the Bendicrop Series: one single-cylinder option and two two-cylinder machines.

One-cylinder hydraulic ironworker machines
Geka has three different models of one-cylinder ironworkers: the Microcrop, Minicrop, and Multicrop models. These are all to be handled by one single worker at a time and include up four stations. The Microcrop model features three workstations for punching, shearing flat bars, and cutting angles. The Minicrop and Multicrop offer those three workstations plus an additional one for shearing round and square bars.

Hydraulic punching machines
Geka's Puma Series of punching ironworkers consists of five models varying in size, portability, and punching power. They each feature a single workstation for punching flat bars and profiles. Additionally, Geka's PP Series consists of two models of portable punching machines. These two models have a punching power of 55 US Tons and may be placed on wheels to be displaced.
GEKA Ironworkers main features:
Max Punching Ø
Flat Bars Shearing
Bars Shearing
Angle cut 45º
Angle cut 90º
Notching
Marking
Bending
Microcrop
1 1/16" x 3/8"
13 3/4" x 1/4"
8" x 1/2"

13¾" x ¼"


8" x 1/2"
–
3" x 3" x 5/16"
–
–
–
Minicrop
1 1/16" x 1/2"
10" x 3/8"
8" x 1/2"

10″x

3

/

8

"


8" x 1/2"
–
3" x 3" x 5/16"
2″x1½"x¼"
–
–
Multicrop
1 1/16" x 1/2"
10" x 3/8"
8" x 1/2"

10″x

3

/

8

"


8" x 1/2"
2 1/4" x 2 1/4" x 1/4"
3" x 3" x 5/16"
2″x1½"x¼"
–
–
Bendicrop
1 1/2" x 1/2"
(2.5º) 18" x 5/8"
(5º) 18" x 3/4"
R 13/4"
S 19/16"
–
4" x 4" x 1/2"
Yes
–
8" x 1/2"
Hydracrop
11/2"x11/2"
4" x 5/8"
20" x 1"
16" x 1 1/8"
Bars Shearing
2 legs
3" x 3" x 5/16"
8" x 8" x 3/4"
Yes
–
–
Puma
1 1/2" x 1 1/2"
4" x 5/8"*
–
–
–
–
–
–
–
PP Series
1 1/16" x 1/2"
–
–
–
–
–
Optional
–
Optimize your manufacturing processes. Increase your productivity. Improve your manufacturing cost-efficiency.
CNC Feeders and Positioners for GEKA Ironworkers
Our CNC Positioners and Feeders let you increase the productivity of your ironworker by automatically positioning plates and profiles in punching or shearing stations of our GEKA Ironworkers. Higher accuracy for better steel processing.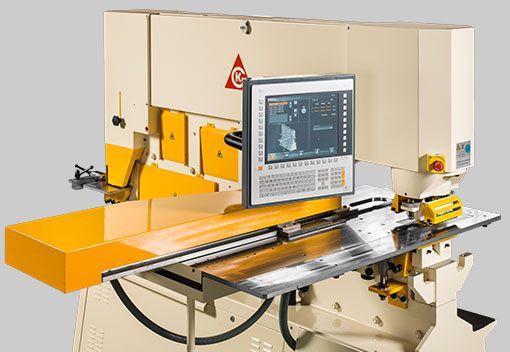 GEKA USA.
We've been forging stories and satisfying tens of thousands of customers for over 100 years.
Services for your Hydraulic Ironworking Machines
You may choose from one of the services listed below to get support and/or information from Geka USA.

Sales Consultant
Our experienced sales consultants can provide you with extensive information regarding our machines and with general guidance.

Brochure Request
You can ask for any brochure or information about any of our products.

Technical Support
Ask for technical support or service from our GEKA USA qualified engineers.

Manuals Request
You can request a free manual for your Geka machine or tool.