Bendicrop Series: Hydraulic ironworkers with bending station
The Geka Bendicrop Series of hydraulic machines consists of three models: the Bendicrop 50, a single-cylinder ironworker machine, and the Bendicrop 60 and 85, both of which are two-cylinder machines that have the capability of being operated by two users at the same time. The Bendicrop Series of machines come fitted with six workstations for different metalworking tasks: punching, notching, shearing flat bars, angle cutting, shearing round and square bars, and an integrated bending station. The permanent integrated bending station makes of these machines unique solutions in the ironworking market. The machines are also fitted with Geka's own anti-torsion system that reduces deformation when shearing flat bars.

Bendicrop 50 Ironworker
A single-cylinder ironworker machine that features six workstations, including the unique integrated bending station in Bendicrop machines. The Bendicrop 50 has a punching power of 50 US tons.

Bendicrop 60 Ironworker
This two-cylinder hydraulic ironworker has six workstations for different ironworking tasks (including an integrated bending station) and may be used by two operators simultaneously. The punching power in the Bendicrop 60 is of 67 US tons.

Bendicrop 85 Ironworker
Two-cylinder ironworker with six workstations, including an integrated bending station, that may be operated by two users at once. At 93 US tons, it offers the most punching power out of all the models in the Bendicrop series.
Max Punching Ø
Flat Bars Shearing
Angle cut 90º
Notching
Bending
Bendicrop 50
1 1/4 x 1/2"
1 1/16 x 1/2"
14" x 9/16"
(5º) 14" x 1/2"
3" x 3" x 5/16"
Rectangular
4″ x 3/8"
4" x 3/8"
Bendicrop 60
1 1/2" x 7⁄16"
14" x 9/16"
(5º) 14" x 1/2"
4" x 4" x 1/2"
Triangular
4″ x 3/8"
6" x 3/8"
Bendicrop 85
1 1/2" x 1/2"
18" x 5/8"
(5º) 18" x 3/4"
4" x 4" x 1/2"
Triangular
5″ x 1/2"
8" x 1/2"
Capacities based on a material resistance of 65,000 tensile.
The manufacturer reserves the right to make modifications without prior notice.
CNC Feeders and Positioners for GEKA Ironworkers and Punching Machines
Our Geka CNC Positioners and Feeders let you increase the productivity of your ironworker machine by automatically positioning plates and profiles in the punching or shearing stations of these machines.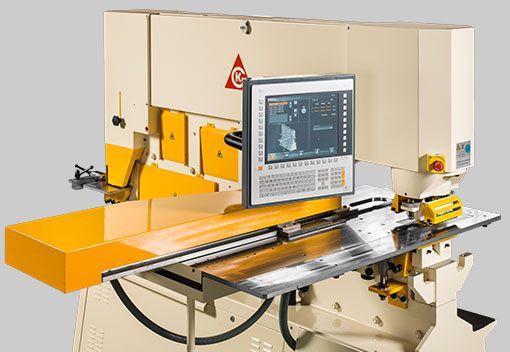 Services for your Bendicrop Ironworkers
Choose below the service you want to contact with.

Sales Consultant
Ask our experienced sales consultants to provide you extensive information and advice.

Brochure Request
You can ask for any brochure or information about any of our products.

Technical Support
Ask for technical support or service to our GEKA qualified engineers.

Manuals Request
You can request our free manuals for your machine or GEKA or original tool.