Hydraulic Punching Machines
GEKA Punching Machines
If you are in the market for a portable punching machine or a punch press machine, Geka has two series of punching machines each featuring different models to suit different punching and manufacturing requirements. The Puma Series has five different models of reliable and durable punching machines, of varying punching powers, for any punching needs including die punching. Meanwhile, the PP Series offers two portable punching machines, both of which have punching powers of 55 US tons and are mounted on wheels for ease of displacement, each with specialized uses. The models in each of these two series are strong Ironworkers that may be fitted with a wide range of Geka accessories for every punching need.

Geka Puma Series of Hydraulic Punching Machines
These GEKA hydraulic punching ironworkers have one work station for punching flat bars and profiles. The five models range in punching power from 60 US tons to 240 US tons. They are each available in two versions (S and SD) varying in throat depths.

Geka PP Series Portable Punching Machines
The PP Series of portable punching machines are conveniently mounted on wheels so that they can be easily moved. The PP Series has two models: the model G for the general punching of flat bars and structural profiles and the model P, which includes a T-slot table for customized tool sets.
CNC Feeders and Positioners for GEKA Ironworkers and Punching Machines
Our Geka CNC feeders and positioners automatically positions plates and profiles in the punching and shearing stations of your Geka ironworker, improving the productivity and efficiency of your manufacturing process.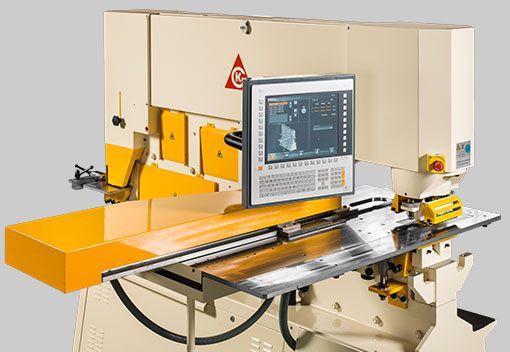 Services for your Hydraulic Punching Machine.
Choose below the service you want to contact with.

Sales Consultant
Ask our experienced sales consultants to provide you extensive information and advice.

Brochure Request
You can ask for any brochure or information about any of our products.

Technical Support
Ask for technical support or service to our GEKA qualified engineers.

Manuals Request
You can request our free manuals for your machine or GEKA or original tool.