Portable Punching Machines PP Series
PP Series, the Portable Punching Machine from GEKA
The PP Series of portable punching machines is one of two Geka lines of hydraulic punching machines. They differ from the Puma Series in that the two portable hydraulic punch press models in the PP Series are mounted on wheels, making them ideal if you require portability and ease of displacement.
The PP50 Portable Punch Press has a punching power of 55 US tons and a throat depth of 5″. It is suitable for many standard punching operations, including the punching of flat bars and structural profiles.
There are two versions available in the PP Series of portable punching machines:
G Model: the G model can perform general punching operations for flat bars and structural profiles, all in a conveniently portable model mounted on wheels.
P Model: the P model offers all the same features as the G model but it includes an additional T-slot table that allows for the mounting of customized tool sets for more specialized punching operations.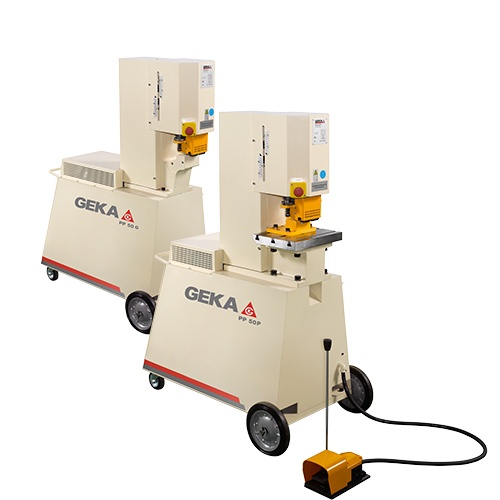 The PP50 portable punching machines offer a punching power of 55 US tons and a 5″ neckline.
The P model also carries a table with T-channels that allows the machine to be equipped with special, optional accessories and is more suitable for self-assembling models.
Features and specifications of the PP50 Portable Punching Machine
FEATURES
P MODEL
G MODEL
Punching power

55 US Tons

55 US Tons

ø through thickness

Ø 1-1/16″ x 1/2″

Ø 1-1/16″ x 1/2″

Throat depth
5″
5″
Maximum stroke
1-3/16″
1-3/16″
Strokes per minute
(based on 3/4″ stroke)
23
23
Capacities based on a material resistance of 65,000 tensile.
The manufacturer reserves the right to make modifications without prior notice.
Services for your Portable Punching Machine PP Series.
Choose below the service you want to contact with.

Sales Consultant.
Ask our experienced sales consultants to provide you extensive information and advice.

Brochure Request.
You can ask for any brochure or information about any of our products.

Technical Support.
After sales assistance by GEKA's qualified engineers.

Manuals Request.
You can request here any manual for your machine or GEKA original tools.