Puma 220 Hydraulic Machine for Punching
If you are looking for power in a reliable punching machine, the Geka Puma 220 will be a valuable partner in your manufacturing needs. The Puma 220 is the most powerful model in the Geka Puma Series  of hydraulic punching machines, with a punching power of 220 US Tons.
The Geka Puma 220 comes in an S version with a throat depth of 20" and a weightier SD version with a throat depth of 31 1⁄2". The standard characteristics offered by both versions include:
• A guided cylinder
• A technically dimensioned frame
• A strong and accurate shaft system to avoid distortions
• Guided punch centering
• Safety protection
• Quick change punch-holder stripper for Geka tools
• Optimum operation speed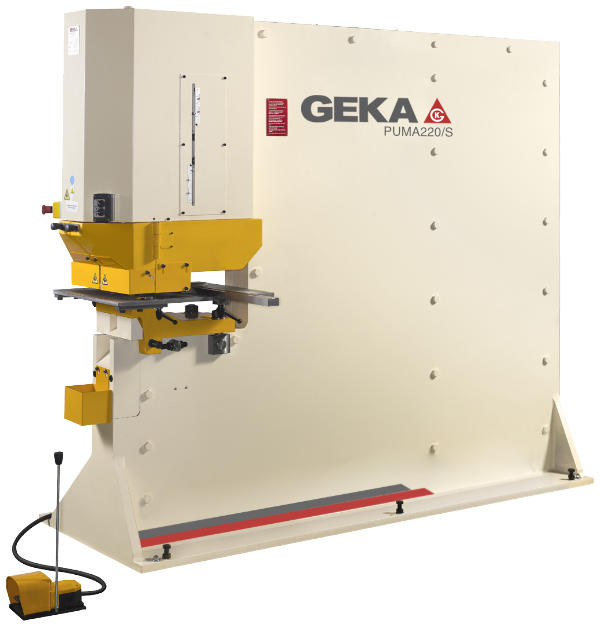 Specifications for the Puma 220 ironworker
| | | | |
| --- | --- | --- | --- |
| HYDRAULIC PUNCHING MACHINES: | | | PUMA-220 |
| PUNCHING | | | |
| Punching power | | US Tons | 220 |
| Maximum capacity | | Ø | 1-1/2″ x 1 1/2″ |
| Throat Depths | S | in | 20″ |
| | SD | in | 31-1/2″ |
| PUNCHING OF SECTIONS WITH GOOSENECK DIE HOLDER | | | |
| I on the leg | | in | 4″ to 17-3/4″ |
| I on the web | | in | 4″ to 19-5/8″ |
| U on the leg | | in | 4-3/4″ to 15-3/4″ |
| U on the web | | in | 4-3/4″ to 15-3/4″ |
| GENERAL FEATURES | | | |
| Motor power | | H.P. | 27 |
| Strokes per minute based on 3/4″ Travel of Punching Cylinder | | | 25 |
| Maximum stroke | | in | 3-15/16″ |
| Working height | S/SD | in | 39-7/8″ / 39-7/8″ |
| Net weight | S/SD | Lbs | 11,465 / 12,125 |
| Gross weight | S/SD | Lbs | 12,570 / 13,230 |
| Volume | S/SD | Ft3 | 340″ / 353-1/8″ |
| Dimensions with Seaworthy Packaging | S | in | 100″ x 63″ x 93″ |
| | SD | in | 105″ x 63″ x 93″ |
| OPTIONAL EQUIPMENT | | | |
| Oversize Diameters Punching | | Ø | 4″ x 5/8″ |
Capacities based on a material resistance of 65,000 tensile.
The manufacturer reserves the right to make modifications without prior notice.
Additionally, you may also use the Puma 220 with optional accessories, depending on your punching needs, including:
• 4" or 6" oversize punching attachment
• Punch gauging table
• Semi-paxy X-Y positioning table system
Services for your Puma Punching Machine.
Choose below the service you want to contact with.

Sales Consultant.
Ask our experienced sales consultants to provide you extensive information and advice.

Brochure Request.
You can ask for any brochure or information about any of our products.

Technical Support.
After sales assistance by GEKA's qualified engineers.

Manuals Request.
You can request here any manual for your machine or GEKA original tools.