Notching Tools and accessories
Find all the notching tools and accessories fabricated with high quality standards. Our notching tools are available for most of Geka's hydraulic cylinder machines and those in the Hydracrop and Bendicrop Series.
The following are the notching tools available for Geka's ironworking machinery. These notching accessories enable your machine to punch in a wide range of standard shapes (rectangular, square, round) and even in custom-made shapes. They may all be fitted easily and quickly.

Rectangular notching equipment
This is a notching tool that is part of the standard equipment for the ironworking machines in the Minicrop, Multicrop, Bendicrop and Hydracrop Series and it is an optional accessory for the Microcrop machines. It will help you to obtain regular rectangular cuts on the outer perimeter of sheet metal or flat bars. This notching accessory can notch a wide range of standard and special shapes and it even allows for the option of designing you own custom shape.

Triangular Notching equipment
This notching tool has been designed to do triangular cuts at 90o on the outer perimeter of flat or sheet metals. It is formed by two lower knifes and an upper knife fixed to a lower die base. This notching accessory can also notch a wide range of standard, special and custom shapes. It can be quickly adjusted to the machine.

Tubes notching equipment
The tube notching equipment is a punching tool that is available for the punching stations of our Minicrop and Microcrop machines and some of our Hydracrop hydraulic punching and shearing machines. With it you can notch the end of tubes at 90° in a wide range of diameters.

Claw notching equipment
This is a notching tool for Geka ironworkers that can convert flat bars into claws. It enables your Geka machine to open the extremes of the bars. With a single longitudinal cut at the end of the flat bar you can obtain a claw-shaped way with a separation between the cut areas.

Louvre notching equipment
This notching accessory can be included in our Hydraulic ironworkers and the Puma Series of punching machines. These tools allow your Geka ironworker to transform flat bars into louvres and to make simultaneous operations such as cutting and stuffing with one single punching movement.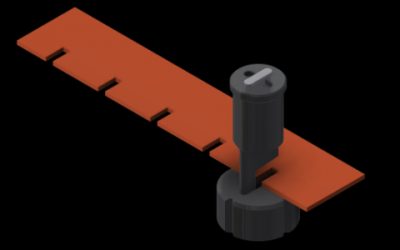 Punch and Die set with extra "heeled guide" for punching a specialized grade of material.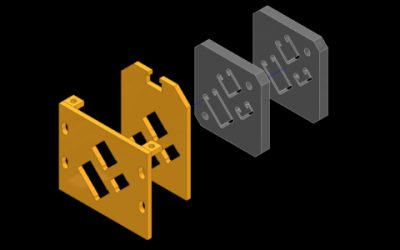 Special blade for cutting three different Uni-Strut Profiles with the same set of blades.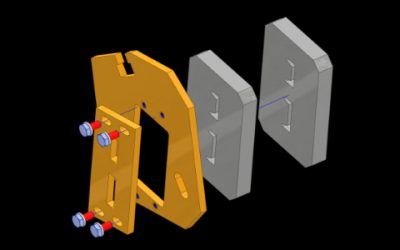 We enjoy developing special tools for Ornamental sector like this one. We use all our expertise to solve a customer need.