Oversize punching unit tools for up to 6 1/4″ diam.
This ironworker tool allows punching a hole punch size that ranges from standard hole punch diameters of ø 1/8″ to a large diameter hole punch of ø 6 1/4″ and/or figures of various shapes: round, square, rectangular, slotted, hexagonal… circumscribed in its various punches and dies.
This equipment is available for all the machines in the Hydracrop Series of two-cylinder hydraulic machines (except for the Hydracrop 220) and also for all the machines in the Puma Series of punching machines.
The equipment is composed of different punches and dies adapters for each tool in order to achieve an optimal position. Our wide range of punches and dies allows you to punch in different punch hole sizes and in several standard shapes including round, square, rectangular, and oblong.
You can also configure your own shape and size with our custom punches and dies technical service. Customers may send a sketch or a drawing or the shape that they need to our team of Geka engineers.
CAUTION: Never punch a diameter smaller than the material thickness and it is very important to apply the correct gap between punch and die.
The punches can have an angular termination in their cutting zone, for example, they may not be completely flat or perpendicular to the motion. This improves the punching process by achieving a better cut, reducing stress and increasing the cutting section.
If you require any kind of assistance related to sales, technical support or need to request a manual or a brochure for any of our products, please contact Geka. Our team of Geka experts will help you settle any doubts regarding this tool.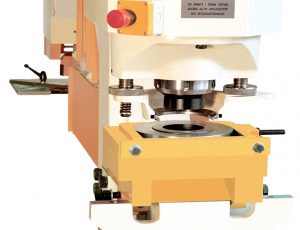 Oversize hole punch sizes in this punching unit by machine
Hydracrop 55
Hydracrop 80
Hydracrop 110
Hydracrop 165
Puma series